5th grade learned about the Highwaymen, a group of artists in Florida during the 1950s who sold their artwork by the highways. Their oil paintings of landscapes are very popular now and can be found all over the country. I learned about the highwaymen during
Art Scouts
last summer from amazing art teacher
Jennifer Alvarado
and I was excited to share their art with my students.
Original work by Highwaymen artist.

We started by viewing their works and identifying foreground, middle ground, and background. Then we sketched out our landscapes.
We added color with chalk pastels, working in "cloudy" shapes, then blending with liquid starch. I love this beautiful, painterly look they got! Gorgeous!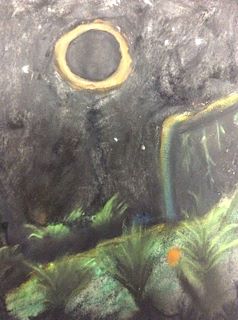 Look at that depth!